Creativity Week
January is considered International Creativity Month. In celebration, AASL partnered with Crayola to provide a week of sponsored activities in the last week of January. The first day of the Crayola Creativity Week features NASA astronauts with a focus on the Artemis mission. Day one features former NASA intern and Illustrator Shane Tolentino. Her beautifully illustrated book is free online! As children, many of us dreamed of Space travel. Here is the link for the Children's book You Are Going. The book will be read aloud by NASA astronauts.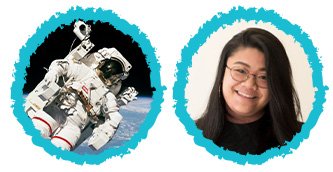 Classroom Connections
Monday, January 23, 2023, teachers and librarians can register for the Kennedy Space Center Visitor's Complex and Crayola prize pack. In addition to the sweepstakes, Crayola has provided "Think Sheets" to help students investigate their endless possibilities regarding future careers. The material explains that it takes around one thousand NASA employees to help just one astronaut make it to space. Also, Think Sheet 2 includes an interest and career web that shows NASA careers come in many forms. Another NASA resource is First Woman Graphic Novels and Interactive Experiences. In addition, Crayola supplies the U.S. Standards Alignment for Arts, Language Arts, and Social-Emotional Learning Standards. Finally, Kellyanne Burbage, School Librarian at Mitchell Elementary School, teaches an on-demand professional development titled NASA in the Library.
On A Personal Note – a freebie for educators
I was even more interested in space travel as a child because my grandfather had many stories about his work on the Saturn V rockets. And yet another connection, my school, The Webb School, has a family connection with James Webb of the Webb telescope. So, there are so many reasons I am excited about space! I have visited the U.S. Space & Rocket Center in Huntsville, Alabama, but I have never been to the Kennedy Space Center in Port Canaveral, Florida. As a bonus, in researching this Crayola / NASA collaboration, I found another freebie on the NASA site! Did you know The Educator Study Pass offers educators complimentary access to the Kennedy Space Center? I will take advantage of this perk in February and visit Kennedy Space Center.
Hello, I am the Library Director at The Webb School of Bell Buckle. I use my past experience in college and university libraries to help my current students in school libraries transition into college, career, and life. I am currently the lead Senior Class Adviser for the Capstone Project. I also served at the state level with the Tennessee Association of School Librarians executive board from 2009-2013 and was the TASL president in 2012. I am certified as a Library Information Specialist for PreK-12th grade, have a BS in Communications with a concentration in Advertising and Public Relations, a BS in Liberal Studies with a concentration in Education and Information Systems and a Masters in Library and Information Science.
---
---
Categories: Community/Teacher Collaboration, Professional Development, STEM/STEAM, Technology, Uncategorized