Back in 2019, I shared some recommendations for True Crime Books for Teens. Since then, the true crime genre has only continued to expand. We ALL watched Tiger King on Netflix during quarantine, and the onslaught of new true crime documentaries, podcasts, and books shows no signs of slowing down. Also not slowing down? The appetite for true crime content in my high school library! Below you will find more true crime books for teens that have been published since 2019 (or will be publishing soon). Many of these are adaptations of adult titles, another trend that seems to be growing in the publishing industry. All descriptions are from Goodreads.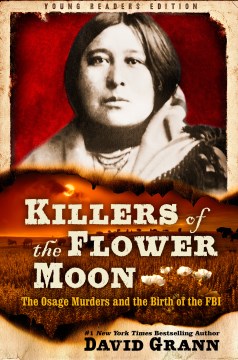 Killers of the Flower Moon: Young Readers Edition: The Osage Murders and the Birth of the FBI by David Grann
"In the 1920s, the richest people per capita in the world were members of the Osage Nation in Oklahoma, thanks to the oil that was discovered beneath their land. Then, one by one, the Osage began to die under mysterious circumstances, and anyone who tried to investigate met the same end.
As the death toll surpassed more than twenty-four Osage, the newly created Bureau of Investigation, which became the FBI, took up the case, one of the organization's first major homicide investigations. An undercover team, including one of the only Native American agents in the bureau, infiltrated the region, struggling to adopt the latest modern techniques of detection. Working with the Osage, they began to expose one of the most chilling conspiracies in American history.
In this adaptation of the adult bestseller, David Grann revisits his gripping investigation into the shocking crimes against the Osage people. The book is a searing indictment of the callousness and prejudice toward Native Americans that allowed the murderers to occur for so long."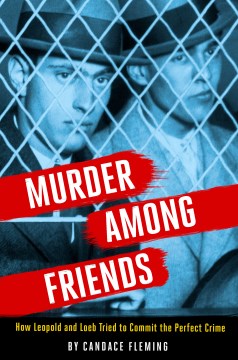 Murder Among Friends: How Leopold and Loeb Tried to Commit the Perfect Crime by Candace Fleming
"How did two teenagers brutally murder an innocent child…and why? And how did their brilliant lawyer save them from the death penalty in 1920s Chicago? Written by a prolific master of narrative nonfiction, this is a compulsively readable true-crime story based on an event dubbed the crime of the century.
In 1924, eighteen-year-old college students Nathan Leopold and Richard Loeb made a decision: they would commit the perfect crime by kidnapping and murdering a child they both knew. But they made one crucial error: as they were disposing of the body of young Bobby Franks, whom they had bludgeoned to death, Nathan's eyeglasses fell from his jacket pocket.
Multi-award-winning author Candace Fleming depicts every twist and turn of this harrowing case–how two wealthy, brilliant young men planned and committed what became known as the crime of the century, how they were caught, why they confessed, and how the renowned criminal defense attorney Clarence Darrow enabled them to avoid the death penalty.
Following on the success of such books as The Rise and Fall of Charles Lindbergh and The Family Romanov, this acclaimed nonfiction writer brings to heart-stopping life one of the most notorious crimes in our country's history."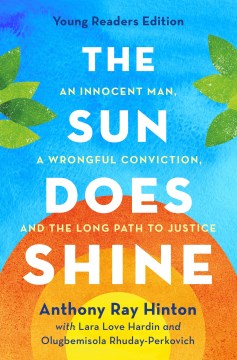 The Sun Does Shine (Young Readers Edition): An Innocent Man, A Wrongful Conviction, and the Long Path to Justice by Anthony Ray Hinton
"The Sun Does Shine is an extraordinary testament to the power of hope sustained through the darkest times, now adapted for younger readers, with a revised foreword by Just Mercy author Bryan Stevenson.
In 1985, Anthony Ray Hinton was arrested and charged with two counts of capital murder in Alabama. Stunned, confused, and only 29 years old, Hinton knew that it was a case of mistaken identity and believed that the truth would prove his innocence and ultimately set him free.
But with a criminal justice system with the cards stacked against Black men, Hinton was sentenced to death . He spent his first three years on Death Row in despairing silence—angry and full of hatred for all those who had sent an innocent man to his death. But as Hinton realized and accepted his fate, he resolved not only to survive, but find a way to live on Death Row. For the next twenty-seven years he was a beacon—transforming not only his own spirit, but those of his fellow inmates. With the help of civil rights attorney and bestselling author of Just Mercy, Bryan Stevenson, Hinton won his release in 2015.
With themes both timely and timeless, Hinton's memoir tells his dramatic 30-year journey and shows how you can take away a man's freedom, but you can't take away his imagination, humor, or joy."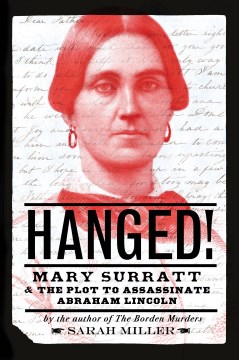 *Expected publication November 8, 2022
Hanged! Mary Surratt & the Plot to Assassinate Abraham Lincoln by Sarah Miller
"From the critically acclaimed author of The Borden Murders comes the thrilling story of Mary Surratt, the first woman to be executed by the US government, for her alleged involvement in the plot to assassinate Abraham Lincoln.
A dubious distinction belongs to Mary Surratt: on July 7, 1865, she became the first woman to be executed by the United States government, accused of conspiring in the plot to assassinate not only President Abraham Lincoln, but also the vice president, the secretary of state, and General Grant.
Mary Surratt was a widow, a Catholic, a businesswoman, a slave owner, a Union resident, and the mother of a Confederate Secret Service courier. As the proprietor of the boardinghouse where John Wilkes Booth and his allies are known to have gathered, Mary Surratt was widely believed, as President Andrew Johnson famously put it, to have "kept the nest that hatched the egg." But did Mrs. Surratt truly commit treason by aiding and abetting Booth in his plot to murder the president? Or was she the victim of a spectacularly cruel coincidence? Here is YA nonfiction at its best–gripping, thought-provoking, and unputdownable."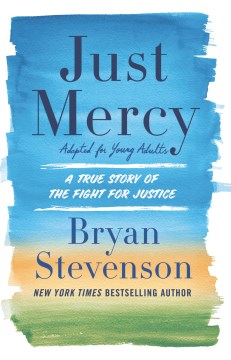 Just Mercy (Adapted for Young Adults): A True Story of the Fight for Justice by Bryan Stevenson
"In this very personal work–adapted from the original #1 bestseller, which the New York Times calls "as compelling as To Kill a Mockingbird, and in some ways more so"–acclaimed lawyer and social justice advocate Bryan Stevenson offers a glimpse into the lives of the wrongfully imprisoned and his efforts to fight for their freedom.
Stevenson's story is one of working to protect basic human rights for the most vulnerable people in American society–the poor, the wrongly convicted, and those whose lives have been marked by discrimination and marginalization. Through this adaptation, young people of today will find themselves called to action and compassion in the pursuit of justice."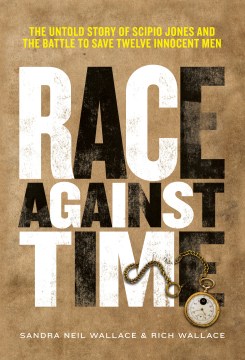 Race Against Time: The Untold story of Scipio Jones and the Battle to Save Twelve Innocent Men by Sandra Neil Wallace & Rich Wallace
"Scipio Africanus Jones—a self-taught attorney who was born enslaved—leads a momentous series of court cases to save twelve black men who'd been unjustly sentenced to death.
In October 1919, a group of black sharecroppers met at a church in an Arkansas village to organize a union. Bullets rained down on the meeting from outside. Many were killed by a white mob, and others were rounded up and arrested. Twelve of the sharecroppers were hastily tried and sentenced to death. Up stepped Scipio Africanus Jones, a self-taught lawyer who'd been born enslaved. Could he save the men's lives and set them free? Through their in-depth research and consultation with legal experts, award-winning nonfiction authors Sandra and Rich Wallace examine the complex proceedings and an unsung African American early civil rights hero."
From a Whisper to a Rallying Cry: The Killing of Vincent Chin and the Trial that Galvanized the Asian American Movement by Paula Yoo
"America in 1982: Japanese car companies are on the rise and believed to be putting U.S. autoworkers out of their jobs. Anti–Asian American sentiment simmers, especially in Detroit. A bar fight turns fatal, leaving a Chinese American man, Vincent Chin, beaten to death at the hands of two white men, autoworker Ronald Ebens and his stepson, Michael Nitz.
Paula Yoo has crafted a searing examination of the killing and the trial and verdicts that followed. When Ebens and Nitz pled guilty to manslaughter and received only a $3,000 fine and three years' probation, the lenient sentence sparked outrage. The protests that followed led to a federal civil rights trial—the first involving a crime against an Asian American—and galvanized what came to be known as the Asian American movement.
Extensively researched from court transcripts, contemporary news accounts, and in-person interviews with key participants, From a Whisper to a Rallying Cry is a suspenseful, nuanced, and authoritative portrait of a pivotal moment in civil rights history, and a man who became a symbol against hatred and racism."
Have I missed any recent releases in the true crime genre for young adults? Let me know in the comments!
Author:
Brandi Hartsell
Brandi Hartsell is the school librarian at Halls High School in Knoxville, TN. She was awarded Teacher of the Year at HHS in 2021. Brandi was also recognized alongside colleagues as recipients of the Tennessee Association of School Librarians (TASL) Teacher Collaboration Award in 2019 and 2021. She has served (and continues to serve) in many leadership roles within TASL. Brandi has presented professional development sessions for TASL, Halls High School, and Knox County Schools. Brandi loves sharing ideas and brainstorming…also cats…and true crime. Follow her on Instagram @hhslibrarytn.
---
---
Categories: Collection Development