Stress management is not a skill that comes naturally. It must be taught. I recall a health class early in my high school years in which we discussed stress management techniques: yelling into a pillow, writing in a journal, talking with a friend. As part of the unit of study, our class went to the football field to "scream out the stress." I did more laughing than screaming. That was not the way I managed stress. I needed to zen out. Listen to music. Just sit outside in the quiet.
Today, many students have a difficult time managing stress. Recently, Maureen Schlosser and I wrote separate posts about teaching mindfulness and using the library for quiet spaces. My post was spurred by two particular students I had recently encountered. One in particular regularly comes into my office, says "hey," and sits at the table to talk. She calls me her therapist.
I asked the Future Ready Librarians Facebook group to crowd source ways school librarians aid in stress management for students (and teachers). Below are just a few of the stress management offerings in school libraries.
1. Coffee carts, Keurig stations, and chocolate. Who doesn't love a good pick-me-up during a stressful day? Check out Emily Simpao's Teacher Recharging Station! Students are not the only ones that need a little stress management.
2. Yoga. Kate Bowman-Johnston teachers her K-3 students to take "shark breaths." Breathe in as you raise your arms over your head and place your palms together like a fin, bring your "fin" down in front of your chest as you exhale saying "shhhhhhh."
3. Therapy animals. Jill, a Twitter friend in Oklahoma, regularly has a therapy dog visit her library. Bailey, a therapy dog that comes with his own handler, visits through the organization HALO.
4. Puzzles, games, and coloring sheets. I love this six-foot coloring page that was shared:
You can find it on Amazon.
5. Be a listening ear. Sometimes students (and teachers) just need someone to listen. I love the quote: "Most people do not listen with the intent to hear but with the intent to reply." Let's be the ones to listen with the intent to hear.
6. Make-up station. Traci Chun makes use of space for students who arrive early with a make-up station. This is such an awesome way to encourage students to use the library space and makes mornings less stressful for students.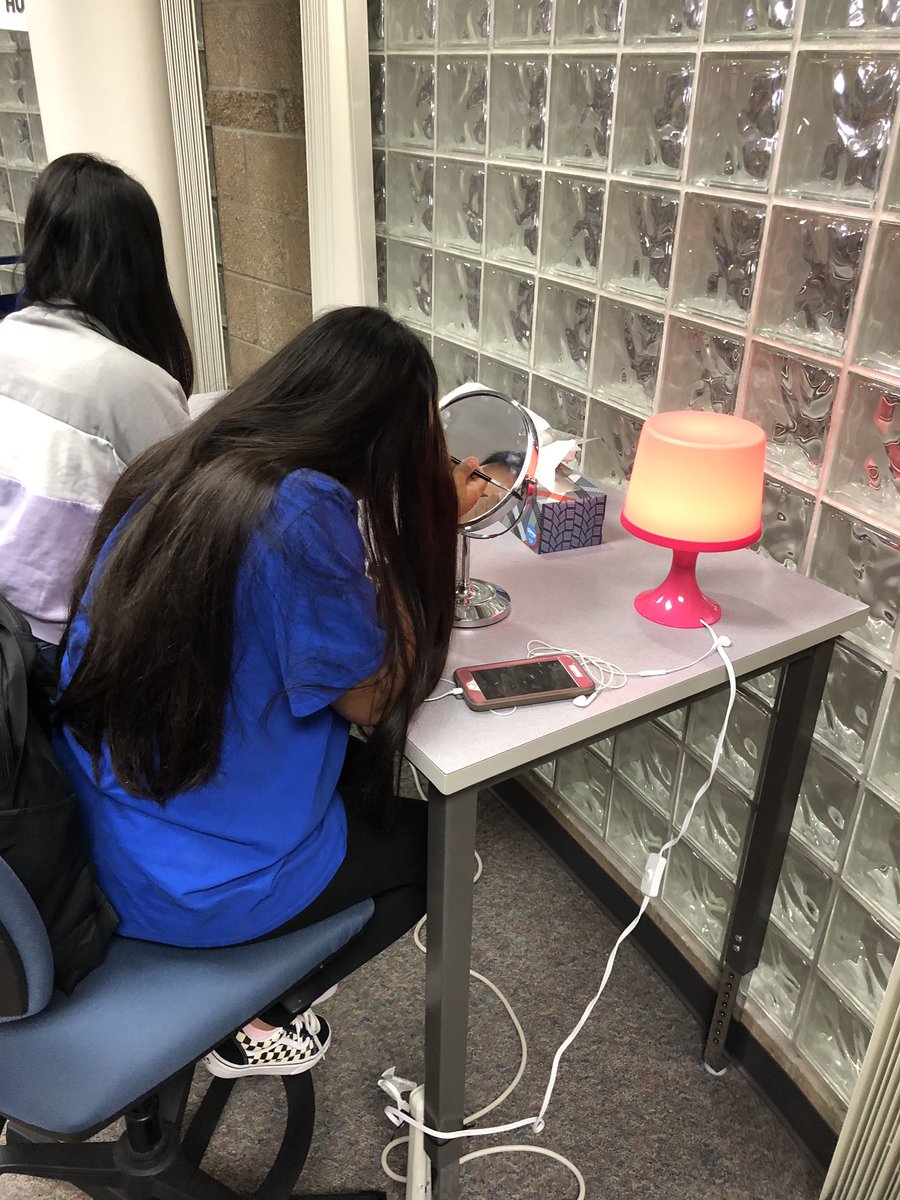 7. Calming websites. Several times a week I recommend one of my favorite sites to zen out to students. Weavesilk is an interactive coloring/design site that instantly calms me. Students really love to design cool images.
You can see all of the crowd-sourced recommendations here. What other ways do you help students and teachers with stress management? What's your favorite way to manage your stress?
Library Media Specialist in Arkansas. Self-proclaimed geek. Lover of nature and music. Always learning.
---
---
Categories: Blog Topics, Collection Development, Student Engagement/ Teaching Models